The Westminster Russia Forum (WRF) is a London based members not-for profit members' forum that was founded in 2012 to promote a greater cultural, commercial and political understanding between the UK and Russian Federation. The WRF's membership is drawn from both the UK and Russia as well as the Former Soviet Union and we regularly organise networking events with a wide range of high level speakers from across the cultural, political and commercial fields.
Our hardworking committee is made of a range of backgrounds, nationalities and interests – all positions are voluntary and all political views represented.
The aim of the Westminster Russia Forum is to allow for a free and open forum for discussion, with speakers ranging from serving UK Government Ministers, senior Russian diplomats, and leading UK & Russian business/cultural leaders.
The WRF also provides a unique networking platform for all those with a keen interest in Russian history, politics, business and the arts as well as maintaining and promoting healthy relations between the United Kingdom & Russian Federation.
HONORARY MEMBERS FOR LIFE – JOHN HALE & JANET TRELOAR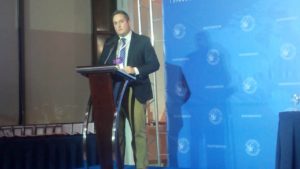 Nicholas Cobb
Chairman & Representative South East
A life long Russophile – Nic took over the Chairmanship of the WRF in January 2014. His interest in Russia and the Former Soviet Union began at university and has been steadily developing ever since! Nic is a passionate believer in healthy and prosperous relations between Russia and the UK.
Aside the WRF Nic is a keen entrepreneur and set up Cobb Energy Communications in 2012, an energy sector focussed communications, technical and commodities consultancy with a pedigree in Russia.