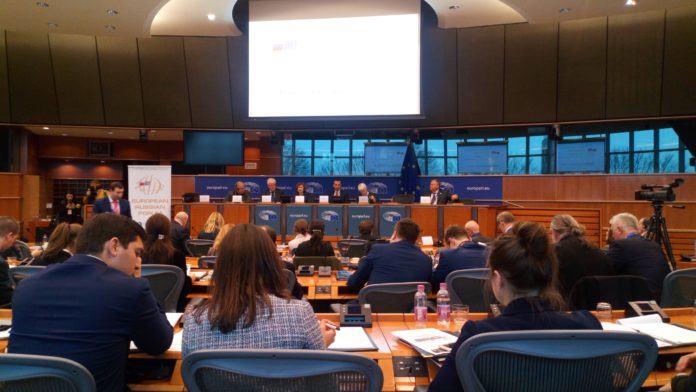 It was a great honour to both attend and speak at the 11th Annual European Russian Forum in Brussels this week.
With over 100 delegates – the forum now in its 11th year brought together speakers from across the cultural – political spectrum to draw parallels between East West relations of 1917 and 2017. The forum in my view provided a unique platform to exchange ideas and at times controversial viewpoints and was excellently handled by Tatjana Zdanoka MEP – President of the Russian Speakers Alliance in the European Parliament.
As one of only two representatives of the United Kingdom, the other being the renowned human rights expert Bill Bowring it gave me the opportunity to present our unique viewpoint and furthermore it was an honour to do so. From MEP's to representatives from business, Russian speaking alliance groups, think tanks and political parties the forum encouraged a free and fair debate – one sorely lacking in the United Kingdom.
I as Chairman of the Westminster Russia Forum presented a talk on the following points:
East West relations in 1917:

o Strained with Russia as a pariah state in the throes of internal revolution
o Loss of Russia as an ally in defeating the Central Powers and subsequent military intervention in support of the white forces as the seed of mistrust
o Few international allies

East West relations in 2017:

o Russia no longer a pariah nation – she has many partners in the APAC and MENA region
o Economically improving – minimal debt, excellent growth in certain sectors and increased trade volumes with new partners.

Trade with traditional partners down due to sanctions and counter sanctions

o Geopolitical tensions over specific issues (Syria etc) as opposed to direct conflict (military intervention)
o Great scope for trade within sanctions regime
o Strong cross pollination of social ties between Russia and West
o Russian culture as an export brand

My views and thoughts as to how to improve ties:

o Recognise political reality – Crimea will not be returned in Medium Term and Western Nations will not budge on issue of Crimean return to Ukraine, other avenues for cooperation need to be identified

All sides should be respected – views are what they are, what we need is;

Mature debate
Honest and frank discussion in spirit of mutual respect
Seek to understand one another view point – then we can realise resumption of political ties

o Focus on social, cultural and economic ties – people, academics / students and business are the real winners here – they are the ones keeping ties alive
o Work extensively to promote trade between Europe and Russia – all benefit
o Take the sentiments of our ruling political and media class with a pinch of salt – they are not the ones suffering and often have vested interests
o Essentially collaborate to mitigate the effects of the negative narrative
I cannot speak for Europe but I can say with certainty that the narrative in the UK as to UK Russia ties is both toxic and lacking depth / maturity – of course we have political and geopolitical differences but in my humble experience the views of business people, students, academics, NGO's and those I come into contact with as part of my role of Chairing the UK's only group promoting ties between our two great nations is a far cry from the sensationalism of our esteemed media and political class.
The social media echo chamber with its armchair critics, the anti Brexit MP's seeking a scapegoat and those who for whatever reason seek to scupper ties between two globally important nations are the ones I feel looking increasingly isolated – this forum brought it home to me that across Europe and Russia there are those who doubt the good and noble work of such initiatives but most of us can see through the absurdity of their position. People and not elites will always find a way to collaborate – I thank the organisers for their diligent and brave work in promoting ties.
It is through initiatives such as this that we avoid conflict – dialogue is crucial if we are to overcome our differences and we at the Westminster Russia Forum are proud of our albeit small part.
Nicholas Cobb – Chair of the Westminster Russia Forum