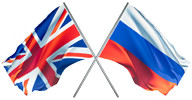 Guest post by Yelena McCaffarty the Director of Talk Russian Ltd, a specialist Russian translation company in the UK, www.talkrussian.com
It's so easy to be negative about Russia these days. With the relations between Britain and Russia souring, this month a story broke out about British astronaut Tim Peake allegedly fearing being left stuck in space. It was, however, reassuring to hear Foreign Office minister Tobias Ellwood putting everyone's mind at rest, remembering that back in 2015 Russian President Vladimir Putin assured him that Major Peake would not be abandoned on the International Space Station. Quite frankly, it would be hard to imagine anything different.
The issue of cooperation between the two countries was raised on the same day again on a different subject matter: a Devon MP Neil Parish called for an end to Russian trade sanctions. And he urged farming ministers to initiate trade talks with Russia, in a bid to ease pressure on British pork and dairy markets.
With Russia being the largest country in the world and offering a wealth of opportunities, any hiccups in trade have reciprocal circumstances for all stakeholders involved. But despite the sanctions, many attractive business channels remain open: in logistics and infrastructure, healthcare and financial services, education and luxury goods. Russia is a fast growing online consumer market too. If UK export specialists believe that Russian economy has left its worst times behind, they must have objective reasons to openly say so.